Extending Thursday's central bank tightening barrage, which saw rate hikes from the likes of Switzerland, Norway and Turkey, moments ago the BOE shocked markets with a bigger-than-expected half-point rise in the interest rates to 5%, the 13th consecutive rate hike of the current cycle and the highest level since 2008, as the BOE has stepped up its fight against sticky high inflation.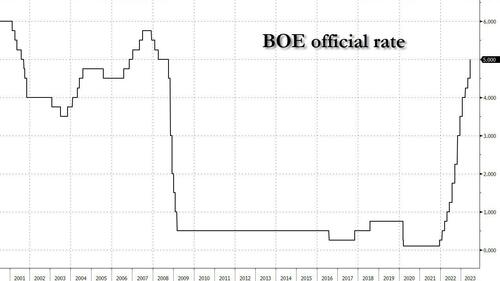 Voting seven to two in favor of the larger-than-expected increase (Dinghra and outgoing member Tenreyro voted for unchanged and nobody voted for a 25bps hike), the central bank's Monetary Policy Committee said it was responding to "material news" in recent economic data that showed worse inflationary pressures in the UK economy.
The Monetary Policy Committee voted by a majority of 7-2 to increase #BankRate to 5%. https://t.co/PIoE5NDqyY pic.twitter.com/ZIR1KPSLot

— Bank of England (@bankofengland) June 22, 2023
As noted above, the two dissents on the BOE's rate-setting committee were external members Silvana Tenreyro, in her last meeting, and Swati Dhingra. They argued that the existing rate rises have yet to impact the economy fully and falling energy prices will push inflation below target by the end of the forecast horizon.
The BoE hopes its decisive move demonstrates determination to get a grip on rapidly rising prices. In a letter to the chancellor explaining the move, governor Andrew Bailey said: "Bringing inflation down is our absolute priority."  Justifying the move, the MPC said: "There has been significant upside news in recent data that indicates more persistence in the inflation process."
The BoE policymakers led by governor Andrew Bailey also reiterated earlier guidance pointing toward higher rates warning that "if there were to be evidence of more persistent pressures, then further tightening in monetary policy would be required" and said nothing to rein in market expectations for rates peaking around 6% by early next year, which would be the highest in over two decades.
"If there were to be evidence of more persistent pressures, then further tightening in monetary policy would be required," Bailey wrote in a letter to Chancellor of the Exchequer Jeremy Hunt. He added: "Bringing inflation down is our absolute priority. The MPC will do what is necessary to return inflation to the 2% target."
The decision announced Thursday suggests UK borrowing costs could keep rising through the summer even after the US Federal Reserved paused its tightening spree. Britain remains an outlier in the Group of Seven nations, with consumer prices rising 8.7% in May, four times the BOE's 2% target and more than double the rate in the US, while core CPI hit a new 31-year high.
For borrowers, the move signals further hardship. Two year mortgage rates have tripled to more than 6% since March 2022, and experts are warning of a mortgage "time bomb" as households refinance at unaffordable levels.
The decision will also reinforce financial market movements over the past month that have prompted lenders to withdraw fixed-rate mortgage rate deals and increase the costs of home loans substantially in what has become known as a mortgage "time bomb". With at least 800,000 fixed mortgages due to move on to significantly higher rates in the second half of this year, lawmakers across the political spectrum are starting to blame the Bailey and the BOE for failing to halt inflation earlier.
Prime Minister Rishi Sunak's government is facing calls to help struggling borrowers but has so far resisted them for fear of undermining the BOE. If rates hit market forecasts of 6%, the UK will collapse into recession, Bloomberg Economics expects. Hunt is pressing high street lenders to help struggling borrowers, moving the issue up the political agenda at a time when the ruling Conservative Party is preparing to fight an election widely expected next year.
The minutes to the June meeting acknowledged that "second-round effects in domestic price and wage developments are likely to take longer to unwind than they did to emerge."
It warned of "more persistence in the inflation process, against the background of a tight labor market and continued resilience in demand."
Both services inflation and core inflation have been "stronger than projected." Wages have also continued to rise faster than expected, the minutes said.
The minutes also argued that inflation pressures will soon ease. Consumer price inflation "is expected to fall significantly during the course of the year," the BOE said. Goods inflation should come down as "producer output price inflation has fallen very sharply in recent months." Food price inflation is projected to fall from current levels of near 19%, it added.
BOE officials will draw up new forecasts for growth and inflation in time for the next decision due on Aug. 3. Bailey, Tenreyro and BOE Chief Economist Huw Pill are all scheduled to speak next week.
In kneejerk reaction to the surprise 50bps hike, GBPUSD spiked higher to 1.2838 before fading the move to pre-announced levels of around 1.2780 and then extending the move to 1.2740 while Sep'23 Gilts fell from 94.85 to 94.24 before reversing course and rising to 95.80 over the course of 11 minutes, a clearly stagflationary kneejerk.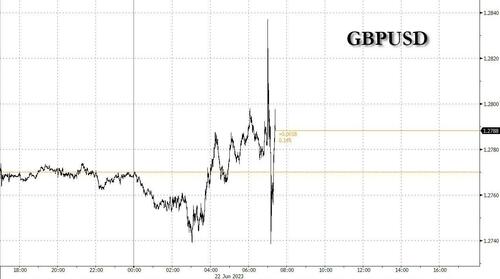 The reason for the reversal in GBP and Gilts – according to Newsquawk – appears to be as markets weigh the strain on the UK consumer from higher rates with rising mortgage costs a front-page Issue in the UK and unlikely to receive government support. Such an outcome will likely overshadow the better- than-expected start to the year for the UK economy. For Gilts specifically, a lot of the price action also appears to be part of a curve play with the curve now flatter after the MPC appears to have front-loaded rate hikes.
In terms of market pricing, a 25bps hike in August is seen at 76% and 50bps at 24% with terminal seen reaching 6% in December. The first rate cut is not fully priced in until September 2024.
Loading…
https://www.zerohedge.com/markets/boe-shocks-markets-surprise-50bps-rate-hike-crusade-against-red-hot-inflation