What do you do when, unlike the Fed, you can't tighten monetary policy through mandated bank failures (SVB, FRC)? Why you engage in surprise rate hikes, of course.
This is what the Reserve Bank of Australia did overnight, when one month after it purportedly paused its tightening campaign, the central bank unexpectedly hiked the Cash Rate Target by 25bps to 3.85% – a move which was seen by just 9 out of 30 Bloomberg forecasters, with consensus firmly in the no hike camp – while stating that the Board expects "some further tightening of monetary policy may be required to ensure that inflation returns to target in a reasonable timeframe" and "will continue to pay close attention to developments in the global economy, trends in household spending and the outlook for inflation and the labor market." As such, the RBA  "remains resolute in its determination to return inflation to target and will do what is necessary to achieve that."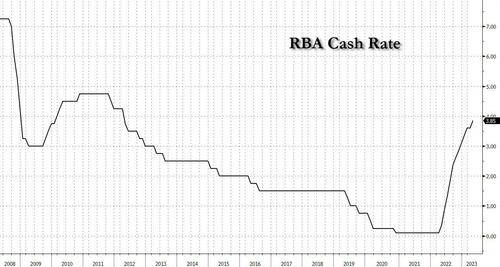 The RBA attributed the decision to inflation being "still too high", and while it had passed its peak at 7% it was still too high, and unit labor costs "rising briskly", though there was no incremental information on unit labor costs in the month and that the RBA downgraded its end-2023 CPI forecast to 4.5%yoy (from 4.8%) following a weaker-than-expected 1Q2023 CPI print during April. The RBA today also lowered forecast GDP growth to end-2023 by ~35bp to 1.25%yoy. The attending statement retained a (somewhat softer) tightening bias that "some further tightening of monetary policy may be required" (prior: "may well be needed").
Having paused a 10-month tightening cycle in April, the RBA's decision to restart after a single month was quite a shock – and particularly given the weaker CPI report in the interim and clear historical precedent for the RBA to observe multi-month pauses. While it is hard to know at this stage, it is possible that fear of spillovers connected to the US banking crisis (although this did not stop the Fed/ECB hiking) and/or considerations around the RBA Review may explain the brief pause in April.
With financial markets pricing just 3bp of tightening prior to the meeting, the rate hike announcement and hawkish guidance came as a shock to markets, sending the aussie soaring and probing 0.6700 and the top end of 1.5 bn expiry options…
… while the 2Y Australia note soared over 20bps from 3.07% to as high as 3.32% before modestly fading gains.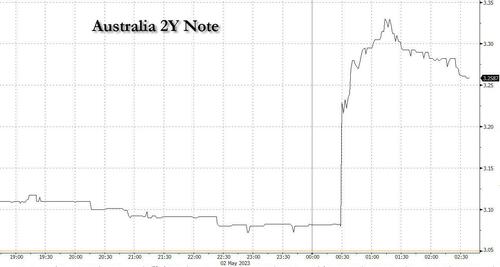 Naturally, local stock markets were not happy with the surprise tightening, and the S&P/ASX 200 index fell 0.9% to close at 7,267.40.  "A potential higher terminal rate is a risk and negative for equities," said Matthew Haupt, a fund manager at Wilson Asset Management in Sydney. "It's becoming a credibility issue now, these shocks to markets, and we need to add discount due to policy uncertainty," he said.
Commenting on the decision, Chamath De Silva, a senior fund manager for BetaShares in Sydney said that the RBA's unexpected rate hike is a negative surprise for Australia's equity and bond markets following the central bank's April pause.
By ignoring market pricing and only focusing on recent economic data, "you can kind of see why they felt the need to hike, and maybe the pause last month was motivated by some of the banking stress during March," he said adding that "the market basically had a zero probability attached to today's move. So this is a huge shock just from that perspective."
"Most traders here were probably expecting a non-event so they could direct all their attention toward the FOMC, but now they have to deal with their positioning being a bit offside."
Looking ahead, Goldman strategists said they continue to expect the RBA to hike to a 4.1% terminal rate. Following today's decision, they expect a final +25bp increase at July's meeting (prior: +25bp in July/Aug) – allowing the RBA visibility on key updates on the national accounts, unit labor costs, and the annual resetting of the minimum wage. That said, "the balance of risks is skewed to a higher terminal rate, with a material risk of a back-to-back rate increase in June."
Loading…
https://www.zerohedge.com/markets/australia-shocks-surprise-25bps-rate-hike-after-april-pause-aussie-yields-soar