Moments after Microsoft reported solid earnings that beat on the top and bottom line, Alphabet – "Probably the most debated stock within the mega-cap universe " – followed suit and not only beat across the board, but more importantly demonstrated that the search advertising business is so far weathering the economic downturn and the alleged ChatGPT "competitive threats" from the likes of Microsoft's Bing.
Here is what the bank reported moments ago for Q1:
Revenue $69.79BN, up 3% YoY, and beating est. $68.99BN
Revenue Ex-TAC $58.07BN, beating est. $56.99BN
Operating income $17.42BN, beating est. $16.19BN
EPS $1.17, down from $1.23 YoY and beating est. $1.09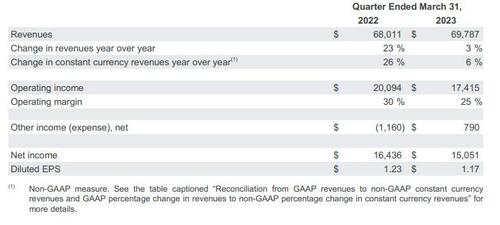 And visually: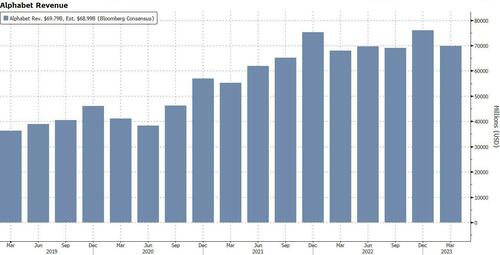 As part of Q1 results, the company reported a $2.6BN charge relating to workforce cuts and office space reductions; specifically, charges of $564 million were related to reductions in office space; the company added that it may see additional charges as it continues to assess its real estate portfolio.
A more detailed look at Revenues, Traffic Acquisition Costs (TAC), and number of employees reveals the following:
Total ad revenue $54.5BN, just fractionally lower than the $54.7BN a year ago, and beating the est. of $53.79BN

Search and other related businesses — the company's financial lifeblood — posted first-quarter sales of about $40.4 billion, beating estimates of $39.4 billion.
YouTube Ads Rev. $6.69B, beating the est. $6.65B
Google Other Rev. $7.41B, beating the est. $7.22B
Other Bets Rev. $288M, missing the est. $299.9M

Google Cloud $7.45BN, up a whopping 28% from $5.8BN, if just below estimates of $7.46BN
Of note: YouTube revenue of $6.7BN declined 3% Y/Y, and a drop for the third straight quarter, as it grapples with a digital advertising slowdown. Alphabet reported $6.7 billion in sales for YouTube, a 3% decrease compared with the same period one year ago.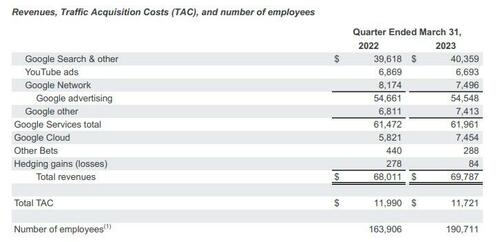 In the context of YouTube, Porat had this to say:"We did see some signs of stabilization in ad spend and you can see that if you look on a sequential basis at year on year growth. It continues to be an extraordinary asset with great reach."
Also notably, Google cloud just had its first profitable quarter, generating a $191MM profit, up from a $706MM loss last year.

Alphabet's Other Bets — a mix of nascent companies including the self-driving company Waymo and life sciences unit Verily — brought in $288 million in first-quarter revenue while losing $1.2 billion. Another reminder that Other Bets used to include Alphabet's DeepMind, the research unit based in London. But as of this earnings report, Alphabet is reporting DeepMind in unallocated corporate costs.
Perhaps most important was the latest stock buyback announcement (which of course follows thousands of layoffs), according to which on April 19, 2023, the Board of Directors of Alphabet authorized the company to repurchase up to an additional $70.0 billion of its Class A and Class C shares.
Of course, realizing that it has to keep hammering the AI/ChatGPT narrative, CFO Ruth Porat started the conversation with an immediate mention of it: "Our revenue reflects resilience in search and momentum in cloud. We are focused on growth innovation especially in our advancement on AI."
Commenting on cloud profitability, Porat said that "In terms of cloud profitability, we are pleased with Q1 results. We do remain intensely focused on the cost base. What you see here is the benefit of the revenue upside, the efforts within cloud and also the changes in the accounting."
Amid all the recent tech layoffs, Google  headcount remained still elevated at 190,711 employees, but as a reminder, the company provided guidance ahead of this report that it would still count the employees affected by layoffs this quarter. Alphabet says it expects headcount to be adjusted by the second quarter.
Alphabet's capital expenditures, meanwhile, are coming in at $6.3 billion this quarter — 36% lower compared with the same period a year ago. This reflects Google's push for greater spending discipline.
Similar to MSFT, GOOGLE shares are surging after the close, and were up more than 4% in after hours trading as investors are clearly happy with the results from the online search and ad juggernaut.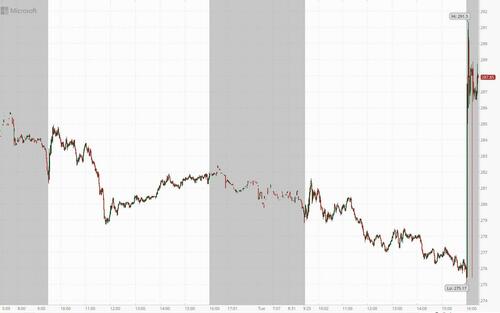 But be careful: in previous quarters both MSFT and GOOGL have been known to reverse all of their early gains once they shared more details on the conference call, which is about to start.
Loading…