A former teammate of transgender University of Pennsylvania swimmer Lia Thomas has broken her silence and spoke out this week about how the university silenced her and her teammates on the issue. 
Former swimmer Paula Scanlan told Fox Business host Stuart Varney that she was directed not to talk to the media about the issue, a wrap up of the interview by The Daily Caller reports. 
Scanlan told Varney: "Our university actually just didn't really have any conversations with us at all about our concerns with the situation happening, and then once it was already a media storm, and Thomas was already breaking all these records, that's when they came in and told us, please don't talk to the media, this is a non-negotiable and provided us with counseling services if we objected."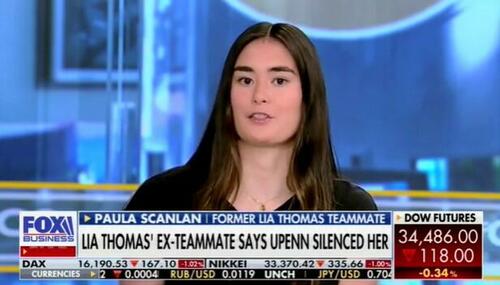 "They brought in a whole panel of individuals, someone from the LGBT Center, someone from the psychological services and a bunch of people from the athletic department," she continued. 
Scanlan added: "The governing body of swimming called FINA, they actually put in a rule that said, if you don't transition before the age of 12, you are not allowed to compete internationally. So in terms of Lia Thomas, or another — another individual that's like that going to the Olympics, that's not going to happen. But in terms of the NCAA, the NCAA hasn't changed any of its policies regarding transgender individuals. It's about a year of testosterone blockers and hormone replacement therapy, and then you're good to go to compete on the women's team."
Scanlan joins a growing chorus of female athletes – and specifically swimmers – speaking out against having to compete against biological men in their sport. 
Recall, back in April 2023, former U of Kentucky swimmer Riley Gaines was assaulted by a pro-trans crowd at a speech at San Francisco State University after speaking up about having to compete against (and share a locker room with) biological males.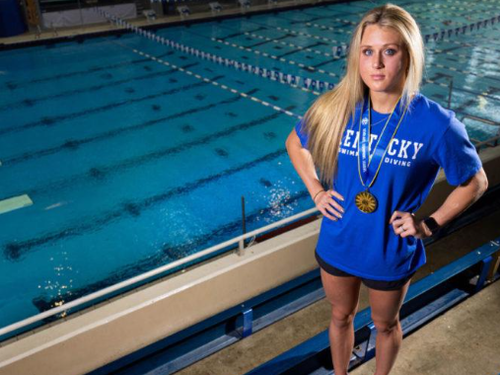 Her husband, Louis Barker, said she had to be barricaded in a room for nearly three hours to protect herself after. 
He said: "She told me she was hit multiple times by a guy in a dress. I was shaking. It made me that mad. It makes me sick to feel so helpless about it. She was under police protection and was still hit by a man wearing a dress."
Gaines wrote on Twitter after the incident: "The prisoners are running the asylum at SFSU…I was ambushed and physically hit twice by a man. This is proof that women need sex-protected spaces. Still only further assures me I'm doing something right. When they want you silent, speak louder."
Loading…
https://www.zerohedge.com/markets/non-negotiable-upenn-swimmer-says-team-was-silenced-speaking-out-about-transgender-teammate