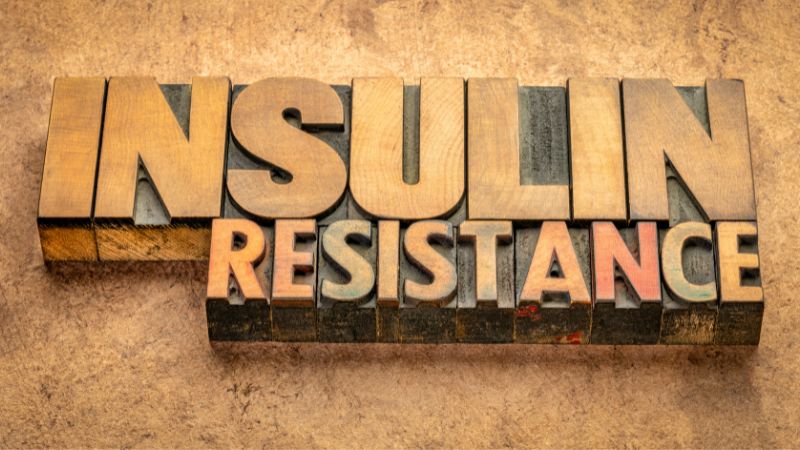 Insulin resistance (IR) is not commonly discussed on Earth Clinic, despite its prevalence and significant impact on our health. It is important to note that IR is not solely associated with diabetes, as it can occur in people without diabetes, and some people with diabetes may not have IR. While IR can lead to diabetes, it can also result in other health issues, as listed below.
Insulin resistance (IR) is often overlooked by doctors, resulting in missed opportunities for early intervention and prevention of associated health problems. Despite its prevalence in various disease states beyond diabetes, such as cardiovascular disease and fatty liver disease, many doctors do not test for IR. This can lead to the worsening of existing conditions and an increased risk of developing new health issues. Therefore, it is crucial to advocate for yourself and request that your doctor test you for IR to address any potential problems early on.
For example, cardiovascular disease (CVD) is the leading cause of death worldwide. Insulin resistance (IR) contributes to the development of CVD and can worsen the condition. This is discussed in detail in the following review article:
https://cardiab.biomedcentral.com/articles/10.1186/s12933-018-0762-4#:~:text=Overall, insulin resistance contributes to, effects lead to heart failure.
Insulin resistance has several negative effects on the body, including an imbalance in glucose metabolism, which can result in chronically elevated blood sugar levels. This can trigger oxidative stress and inflammation, causing damage to cells.
Additionally, insulin resistance can affect how the body processes lipids, leading to dyslipidemia. This condition is characterized by high levels of triglycerides, low levels of high-density lipoprotein, and the appearance of small, dense low-density lipoproteins. When combined with endothelial dysfunction, which can also be caused by insulin resistance, dyslipidemia can contribute to the development of atherosclerotic plaque.
Insulin resistance can have detrimental effects on cardiac health through multiple mechanisms. Three ways in which it can cause damage to the heart are:
Altering signal transduction
Impairing regulation of substrate metabolism
Affecting delivery of nutrients to the heart
Insulin resistance (IR) can exacerbate cardiovascular disease (CVD) if unmanaged. However, IR often goes undetected unless specifically tested for by a doctor, meaning that an individual may already be experiencing serious health issues like a heart attack or stroke before learning of their IR. Fortunately, IR can be treated to reduce the risk of severe CVD complications. Unfortunately, there are currently no FDA-approved drugs specifically for treating IR, and many doctors are hesitant to prescribe diabetic medications to non-diabetic patients due to concerns about liability in the event of complications. This creates a frustrating situation where obtaining appropriate treatment for IR and CVD can be challenging.
This is just an inkling of the health complications that IR can cause, and this is not just limited to CVD. The following study is entitled "Patients with psoriasis are insulin resistant" :
https://www.sciencedirect.com/science/article/abs/pii/S0190962215000079#:~:text=•-, Patients with psoriasis have increased risk of type 2 diabetes, systemic inflammation causes insulin resistance.&text=Our data suggest that psoriasis, patients who are not diabetic.
Conditions Associated with Insulin Resistance
Insulin resistance (IR) can be found in multiple conditions, including:
Irritable bowel syndrome (IBS)
Alzheimer's disease
Certain types of cancer have an increased risk associated with IR.
IR is common in people with end-stage kidney disease.
Non-alcoholic fatty liver disease (NAFLD) is one of the most common liver diseases and is characterized by IR as its pathophysiological hallmark.
40% of patients with mood disorders also have IR.
Covid-19 can trigger IR.
IR can increase the risk of developing asthma-like symptoms.
Rheumatoid arthritis flares have been linked to IR.
Insulin resistance (IR) is a significant factor that can negatively affect our health, even if we don't have diabetes and have a lean body. The following are some of the potential negative effects of IR:
Hyperglycemia (high blood sugar levels)
Hypertension (high blood pressure)
Dyslipidemia (elevated cholesterol and triglycerides in the blood)
Visceral adiposity (excess fat stored around the organs in the abdomen)
Hyperuricemia (elevated levels of uric acid in the blood)
Elevated inflammatory markers
Endothelial dysfunction (dysfunction of the inner lining of blood vessels)
Prothrombotic state (increased risk of blood clotting)
Arterial damage
Development of diabetes
https://www.iherb.com/blog/insulin-resistance-causes-signs-supplements/1297
From the above list, it is clear that IR can significantly impact our health and well-being.
Signs That You Should Ask Your Doctor to Test You for Insulin Resistance
Insulin resistance (IR) often goes undetected in many individuals, especially if their doctor hasn't tested them for it. However, some signs may indicate that you should ask your doctor to test you for IR. These signs include:
High blood pressure (hypertension)
Being overweight or obese
Skin tags, especially around the neck or groin
High cholesterol levels
High triglyceride levels
Fatty liver
Prediabetes or diabetes
Enlarged prostate
Heart disease
Polycystic ovarian syndrome (abnormal periods)
If you have any of these signs or risk factors, it may be a good idea to talk to your doctor about the possibility of testing for IR.
Addressing Insulin Resistance: Importance and Approaches
Insulin resistance (IR) is a critical factor in a cascade of negative health effects that can lead to conditions such as diabetes, cardiovascular disease (CVD), and organ damage. This cascade is accompanied by increased oxidative stress levels and inflammatory markers in the body, which can further worsen health.
A healthy diet is an excellent starting point for reducing insulin resistance and improving insulin sensitivity. However, sticking to such a diet can be challenging for some individuals. Regular exercise is another effective way to reduce insulin resistance and increase insulin sensitivity. However, some people may find exercise difficult or impossible due to health conditions.
It is important to address insulin resistance to prevent the negative health consequences that can arise from it. While a healthy diet and regular exercise are beneficial, individuals may need to explore other options with their healthcare providers if these interventions are not feasible or effective.
5 Supplements to Improve Insulin Sensitivity and Reduce Insulin Resistance
Some supplements can help to reduce IR. One that I have written about before is Berberine which can reduce insulin resistance while increasing insulin sensitivity, as discussed here:
1. Berberine
Berberine is a supplement that potentially reduces insulin resistance and improves insulin sensitivity. It works by improving the physiological stimulation of glucose through a cascade reaction of insulin-like growth factor-1 (IGF-1), which leads to insulin secretion in the body. This, in turn, reduces insulin resistance and improves the sensitivity of liver, muscle tissues, and fat to insulin.
Berberine has also been discussed as a beneficial supplement for Parkinson's disease (PD) and Alzheimer's disease (AD) due to its multiple pathways and mechanisms.
https://www.ncbi.nlm.nih.gov/pmc/articles/PMC6434235/#:~:text=Berberine improves physiological stimulation of, fat to insulin (16).
Grape Seed Proanthocyanidin Extract (GSPE) is another supplement that has been found to have the ability to reduce insulin resistance in humans. A randomized controlled trial (RCT) found that after the intervention, participants who took GSPE had a significant reduction in Homeostatic Model Assessment of Insulin Resistance (HOMA-IR) and insulin levels compared to the placebo group.
Although changes were observed in other variables, they were not statistically significant. Overall, GSPE has shown promise in improving insulin sensitivity and reducing insulin resistance in humans.
3. Magnesium
Magnesium is a supplement that has been found to have potential benefits in reducing insulin resistance, especially in advanced ages without obesity and in rheumatoid arthritis (RA) patients who are at an increased risk of getting diabetes.
A recent study found a significant negative correlation between magnesium and Homeostatic Model Assessment of Insulin Resistance (HOMA-IR) in advanced ages without obesity, particularly in men with low estimated glomerular filtration rate (eGFR) levels, which is a marker of kidney function.
Another study demonstrated that magnesium supplementation reduced fasting blood sugar (FBS), insulin, and HOMA-IR levels in RA patients, potentially preventing the onset of type 2 diabetes. This study suggests magnesium supplementation may be an alternative method for preventing diabetes in RA patients.
Magnesium is an underrated supplement for diabetes and can potentially improve insulin sensitivity and reduce insulin resistance.
4. Ceylon Cinnamon
Cinnamon, specifically Ceylon Cinnamon, is another supplement that has shown the potential to reduce insulin resistance.
A study found that consuming metformin or cinnamon significantly decreased Homeostatic Model Assessment of Insulin Resistance (HOMA-IR) compared to the placebo and ginger groups. Additionally, weight and body mass index (BMI) decreased significantly in all intervention groups.
5. Vitamin D
Vitamin D is a supplement with many positive health effects, including improving insulin sensitivity and reducing insulin resistance. Recent studies have highlighted the significant role of vitamin D in insulin resistance.
One study found that high-dose vitamin D supplementation for six months significantly improved peripheral insulin sensitivity, as assessed by the hyperinsulinemic-euglycemic clamp, and beta-cell function in individuals at high risk of diabetes or with newly diagnosed type 2 diabetes. Additionally, the study showed a statistically significant positive change in M-value, the value used for insulin sensitivity.
Summary
In conclusion, these five supplements – berberine, grape seed proanthocyanidin extract (GSPE), magnesium, cinnamon, and vitamin D – have been found to reduce insulin resistance and/or increase insulin sensitivity in humans. This benefits overall health, regardless of an individual's health condition. However, incorporating these supplements may be especially advantageous for those with health issues.
Compared to other supplements, these five have good safety profiles, are relatively inexpensive, and can offer other health benefits with less chance of negative side effects. Additionally, studies support their use for reducing insulin resistance. Therefore, these supplements may be worthwhile for individuals looking to improve their insulin sensitivity and overall health.
Art
---
About The Author
Art Solbrig is a researcher who has been reading scientific studies and testing natural remedies for over 30 years, searching for useful studies and alternatives that apply positively to human health issues and natural treatments using minerals, vitamins, amino acids, essential oils, herbs, homeopathy, colloidal silver, combination treatments, and other alternatives to improve the quality of life of others by writing about his findings and test results in places like Earth Clinic. He documents and writes about many of his experiences in helping others. Art is a native of sunny California.
Related Links:
Cardiovascular Disease (CVD) and Melatonin
Diabetes Type II and Berberine: Dosage and Research
Magnesium for Diabetes Type II
Metabolic Syndrome Treatment with Metabolic Theory
Natural Cures for a Fatty Liver
Natural Remedies for Diabetes Type II
Polycystic Ovary Syndrome Remedies
Two Supplements for Nonalcoholic Fatty Liver Disease (NAFLD)