Following yesterday's subpar 3Y auction, moments ago the US Treasury sold $35BN in 10Y paper in a stronger auction that saw solid, if not spectacular, metrics.
After last month's 10Y auction priced just shy of 4% (3.999% to be precise), this time it was no longer possible to contain the tidal wave of rising rates, and today's auction priced at a high yield of 4.289%, up 29bps in the past month, and the highest level since Nov 2007. It also priced on the screws to the When Issued, which was also trading at 4.289% at 1pm. This was the first on the screws auction since Oct 2020.
The bid to cover was 2.52, down from 2.56 last month, but above the six-auction average of 2.43.
The internals were in line with averages, as foreign buyers were awarded 66.3%, also below last month's 72.2% (and the lowest since June), but just above the recent average of 65.8. And with Directs taking down 19.9% or right on top of the recent auction average, Dealers were left holding 13.8%, higher from last month's 9.5% but below the six auction average of 13.8%.
Overall, this was a solid, if hardly spectacular, auction and not surprisingly it had zero impact on the secondary bond market with 10Y yields at 4.28% and unchanged for much of the day.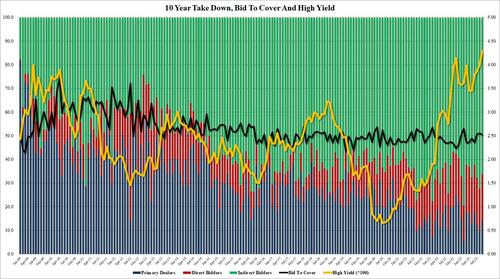 Loading…
https://www.zerohedge.com/markets/10y-treasury-auction-prices-screws-highest-yield-nov-2007